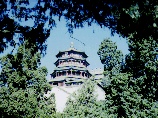 The Summer Palace
---
This morning we are bound for the Summer Palace. Our guide for the day is David. He is a nice, learned sort of chap, much more traditionally Chinese than Peter. He is also very proud to have a little daughter, and turns out to be very informative indeed. On the way to the Summer Palace he tells us about the Empress Ci Xi (pronounced like Sushi) who grabbed power on the death of the Emperor and used her son, and later her nephew, as puppets, confining them under house arrest.
The summer palace is really beautiful, like a private village built on a huge lake. You could easily imagine yourself back in the time of Ci Xi, if it wasn't for all us tourists! David brings each part of the palace to life with stories of who was confined in each section of the palace, and what all the paintings represent.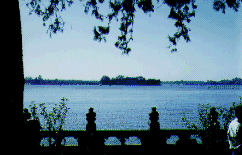 At about 11:00 we stop outside a large closed gate. David pushes it open and we find ourselves in a beautiful deserted courtyard, of which opens a strange sort of tourist shop. It's empty apart from us and a few staff who are waiting there to pour us all tea. Very civilised. We wit in the courtyard in the warm sun and drink up the tea and the atmosphere. I find myself deep in conversation with an Indian gentleman in our party, who gives me a fascinating and profound summary of economics and religion. I really must set out what he said, but that will be another story.
As we leave the courtyard and become tourists again, I feel that I have been dragged back into the 20th century from a better time.
David tells us that much of the Summer Palace was destroyed by European troops in 1860. Ci Xi spent all of the money intended for the development of the Chinese Navy on restoring the Palace. She also built an enormous marble boat on which she used to sit and drink tea. I find myself very surprised that the life of Ci Xi was so recent, when the atmosphere and the actions of Ci Xi belong more to the 16th century than the late 19th. I also feel embarassed that English troops should have destroyed such a beautiful place. But worse was to come.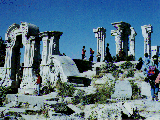 David takes us a few miles away to the Old Summer Palace. It was apparently more beautiful than the Summer Palace we had just visited, but now it is a wilderness with just a few stone remains of a Romanesque building. David suggests we read a large faded sign. It tells how the entire palace was destroyed by Anglo-French forces as revenge for the Chinese government refusing to let us sell opium to its people. My history isn't good enough to know whether this is truth or propaganda, but I have a nasty feeling that we aren't always the good guys.
On the way back to Beijing we stop at a temple where Ci Xi used to stop on the way to the Summer Palace. We are escorted round by an 80 year old Chinese artist, and it's interesting to think that Ci Xi was alive when he was born. These temples are very peaceful. The atmosphere here is very tempting; I wonder if I could be a Buddhist monk for a few months?
It's soon time to leave and return to the modern bustle of
Beijing
.
---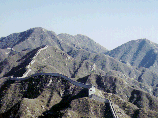 Trip Contents
---

---