Arrival in Beijing
---
Beijing Airport. The immigration formalities are cursory, and customs procedure non-existent. All the officials seem very friendly and I begin to get a really good feeling about China. Up to now we have been looked after by Uzbekistan Airways, but from here on we will be relying on our tour organiser Jules Verne Travel. I have never travelled with them before, the price was cheap, and the name sounds a bit gimmicky, so I wonder how things will turn out.

Peter, our tour guide, is there to meet us. He speaks perfect English and treats us a bit like a party of schoolkids. Which is about right after the journey. We all follow him in a long line, pushing our baggage trolleys, through an amazingly chaotic car park to our coach. The luggage is loaded into a smaller van with great efficiency, and off we go to our hotel. Driving through Beijing I looked eagerly out of the windows to see what China is like. It's like London, or New York, or any of a dozen major Western cities. High rise buildings, traffic jams, and not a lot of bicycles. Not at all what I expected. Peter settles down with his microphone at the front of the coach to tell us all about our programme.
The currency, he tells us, has been simplified. All that stuff in the guidebooks about FECs and local currency is now obsolete. FECs have been abolished and everyone accepts local currency for everything. We are very lucky, he tells us, because the exchange rate has slipped badly and we now have 8 Yuan to the US Dollar. There are lots of organised tours available at very reasonable prices. Peter offers to go through them all and point out which are essential and which are not so interesting. It turns out they are all essential so I stop listening and enjoy the ride.
The Mandarin Hotel is really nice. Four star international standard. I was expecting something rather more primitive, so this is a pleasant surprise. We are handed over to cheery Mr Wang, who treats us to a very welcome cup of Jasmine tea as he tells us everything we need to know about getting around in Beijing. He insists on referring to us continually as "Dear Friends", but he's a nice guy and genuinely helpful.
Our room is excellent. Well furnished, multi-channel TV, well supplied bathroom, and well stocked mini-bar. Direct International Dialling telephone is also a nice surprise, and an English type electric socket makes a mockery of the huge range of plug adaptors I brought with me. It's difficult to believe we are in China!
---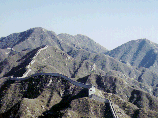 Trip Contents
---

---