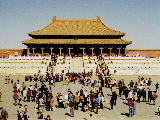 The Forbidden City
---
Thursday 20 October 1994 09:00
Guide Peter arrives with our air-conditioned luxury coach to take us on our sightseeing tour of Beijing. The traffic jams are incredible, just like London. Yes, there are lots of bicycles, but the main roads have separate, wide, bicycle lanes. Junctions however are terrifying and seem to be one massive game of "chicken". Several times it seems as though a cyclist has disappeared under the front of the coach, but we stop with millimetres to spare. Fortunately the jams slow down traffic to the point where accidents are more easily avoidable.
The pace of change in Beijing is enormous. There is a lot of construction work, and Peter proudly points out their first fly-over. I'm dubious. Seems to me they are rapidly heading for polluting gridlock.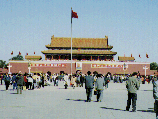 We arrive in Tiananmen Square, a large open space reasonably full of people. Not many westerners but plenty of kite flying and a long snaking queue for Mao's mausoleum. At the north end of the square is the entrance to The Forbidden City. I am surprised that Peter talks so openly about the faults and virtues of Mao, and that he is happy to discuss the changes taking place. It seems that freedom of speech is just as great here as in England. There are many changes taking place and Peter thinks overall they are for the best. I'm not so sure. Maybe I can talk to him more about this later.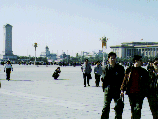 The Forbidden City is immense. A linear procession of ever more impressive single room buildings is more breathtaking than I can convey here. It is truly a small city in its own right, and the enormity of it dulls the novelty to some extent. It's easy to imagine what it must have been like in the time of the Emperors. Built in the early 15th century it was designed to convey the incredible wealth and status of the Emperors. It succeeds. Peter supplies us each with a small tape cassette and player, and we walk along the 0.75 kilometre central path to a running commentary by Roger Moore. It's actually very good and very informative.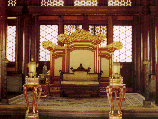 People crowd round the entrances to the central buildings. I wonder how long all this will last once the tourist explosion really gets under way? The marble paths laid for only the emperor to use were not designed for this kind of traffic. I'm glad I came now, it may soon be too late.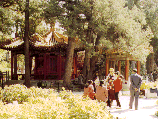 At the North gate of the city the Emperor's Garden is still an oasis of peace and tranquility, even with all the people. A sobering thought that the strange rocky mountain in the garden was to remind the Emperor of the real countryside outside. Being Emperor was fairly claustrophobic.
---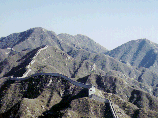 Trip Contents
---

---