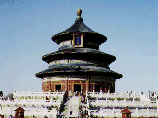 The Temple of Heaven
---
Well actually we stopped off at an Art Gallery first. It was quite interesting. Given the absurdly low prices of everything we have seen so far, I was surprised to see Calligraphy scrolls priced up to 1 million Yuan. (At 8 yuan to 1 US Dollar). This seems amazingly expensive, even taking account of the fact that haggling will reduce a price by 50% or more. Who buys these things? They are beautiful though.
| | |
| --- | --- |
| | The chinese writing system, using characters, has produced the beautiful art of Sho (literally pictures painted with black ink) or, as we would say, Calligraphy. You can learn more about Sho, and learn to write your own beautiful calligraphy scripts. Visit our Calligraphy Shop and discover this wonderful art form for yourself. |
We also saw snuff bottles being painted on the inside by means of a brush inserted through the neck. I collect antique snuff bottles in the UK, from our famous Portobello Market in London, and it was interesting to see how easily these girls did the painting. However, the quality is nothing like the antique bottles. Seals (or "chops") were a good buy, but get an oriental friend to translate your name into chinese characters before you come to China. You need characters that not only produce a phonetic rendering of your name, but also have an appropriate meaning as well. Once you have done this, the seals are astonishingly good value as a useful souvenir.

Lunch had been arranged for us in a spacious restaurant and was plentiful, though unremarkable. Actually, to be fair since it was included in the already reasonable price of the day it was actually very good. In fact, given the price we paid for the package and trips I think Jules Verne gave us very good value. Nevertheless, the Chinese food we had was generally ranging from reasonable to poor, compared with London Chinese restaurants. Maybe I just don't appreciate Chinese food!
The Temple of Heaven is worth a visit, but I can't do it justice here. It's a tall circular building with a very impressive interior and setting. The ceiling is wonderfully decorated, and it all seems to be arranged on huge, beautifully painted wooden beams that appear to balance on each other. Breathtaking! But all rather similar to The Forbidden City. I think the Emperor was driven to the attractions of his concubines by the sameness of his surroundings.
After returning to our Hotel, I decided I could find better food on my own than Jules Verne had found. We located a splendid looking restaurant near the hotel. The menu was entirely in Chinese, with about 10% of the items having a rough English translation. We chose roast tofu, beef in oyster sauce,sweet and sour pork,noodles and rice. Fortunately the rice never came. There was just too much food. And what was over-provided in quantity was more than compensated for by the under-provision in quality. Almost inedible! Still, it was only 10 dollars for two people and it kept us from starving. In future, I will trust Jules Verne!
---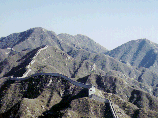 Trip Contents
---

---