The Ming Tombs
---
The Bacon, Sausage, freshly fried Egg etc are very inviting but I settled for a diet breakfast of fruit and croissant. The hotel breakfast is really quite good, and I am beginning to feel very at home here.
The coach left at the early hour of 8am but even so the traffic is terrible. Huge jams of mainly lorries and coaches, made worse by roadworks. I begin to feel even more at home!
Peter the guide tells us that we are stopping for a cup of tea, and the coach pulls in to the car park of a large building miles from anywhere. It turns out to be a huge gift emporium and seems devoted to ripping-off tourists. I am only tempted by the tea, and after 20 minutes we are back on the road to the Ming Tombs. Still, I am impressed by the Chinese dedication to relieving the tourists of their dollars.
The concept of The Ming Tombs is impressive. A huge processional path lined with stone statues, leading to the tombs. However the path is being re-furbished and looks new, only one of the 13 tombs has been excavated, and the museum contains just a few artefacts, clothes and jewels from the tomb. Somehow there is no atmosphere of antiquity or grandeur. Outside the museum are the inevitable tables full of fruit, tins of cola, and tatty tourist souvenirs. The traders are friendly and happy, and I end up buying a "typical" pointed Chinese hat and a couple of those exercise balls that you rotate in your hand and make a chiming sound. Are these really suitable mementos of the 13 dead Chinese Emperors, I wonder?
Back to the coach for the trip to the much more impressive
Great Wall
.
---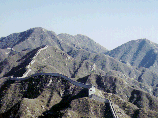 Trip Contents
---

---